Hi Everyone! If you're coming over from
Ellison Lane Quilts
, welcome! Thanks for stopping by! Hasn't this been such a fun series?! Thanks, Jen, for coordinating everything - we're all having a blast! I had such fun making this Scrappy Advent Calendar, and the kids have already reached into those fun pockets as we've started counting down the days till Christmas.
Today, we have an exciting giveaway planned for you.
Six Munchkin Stitching
is offering to make a project bag for one of my readers!! Here is an example of one of her project bags - how sweet are those owls?!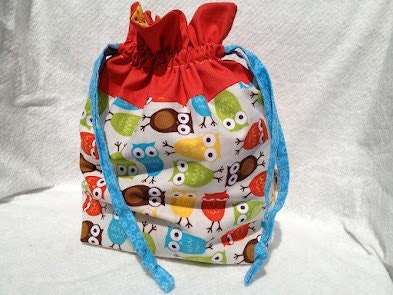 These are lined drawstring bags and will be useful for so many things - I'm thinking it's a perfect knitting project bag! To enter, please leave a comment telling me one of your favorite holiday traditions. I love hearing about all the fun ways people celebrate! I'll pick a winner randomly on December 9. Enjoy!
And let me know if you plan to make an advent calendar - I'd love to see it!